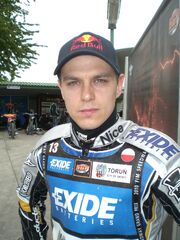 Jarosław "Jarek" Hampel (born 17 April 1982 in Łódź, Poland) is a Polish Speedway rider and a participant of the FIM Speedway Grand Prix in 2007 and 2010.
He received his speedway license in 1998 with the Polish team Polonia Piła, although he first started racing on a mini-track in Pawłowice, close to the city of Leszno.
In 1999 he won a bronze medal at the Individual U-19 European Championship as well as a bronze medal at the Individual U-21 World Championship in 2000 and a gold medal in 2003.
He has started in the Speedway Grand Prix since 2000, and became a regular starter from 2004. In 2005 he won the Speedway World Cup with Poland, together with fellow Poles Tomasz Gollob , Piotr Protasiewicz, Grzegorz Walasek and Rune Holta ; beating Sweden, Denmark and Great Britain in the final held at the Olympic Stadium in Wrocław, Poland. As well as 2005 he has since won the world cup another three times in 2007, 2009 & 2010 taking his number of world cup gold medals to four.
In terms of his domestic run, Hampel's biggest success are two silver medals at the Individual Polish Championships in 2000 and 2004, as well as three medals at the Junior Individual Polish Championships ( Gold in 2001, Silver in 2002, Bronze in 2000).
He currently rides for two teams: VMS Vetlanda in Sweden Unia Leszno in Poland.